Info
OS
Windows XP SP3 (minimum), Windows 7 (recommend)
Updated
Nov 18, 2013
Version
2.1.5.1
GUI
English | Español | 繁體中文
Size
1,961 Kb
Price
FREE
Brief
A handy application designed to help you create/plan convenient itineraries, and interact with popular maps by intuition.

Zipfiles

Install
No setup or registry required.
Simply unzip all files into any folder you want, and execute the editor directly.
File/Folder
Purpose
TomItnEdrEn.exe
Executable file.
ITN Sample En.itn
Sample file.
MarkerImage
Required icons used by maps.
SvPeg
Optional icon sets used for substitute street view markers.
| | |
| --- | --- |
| Notes: | Google has phased out the Weather API, the Weather feature, including its associated icons, are removed from the editor. |

Screenshots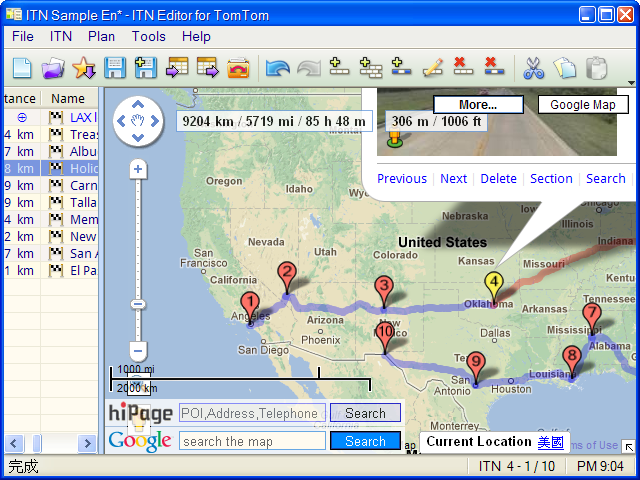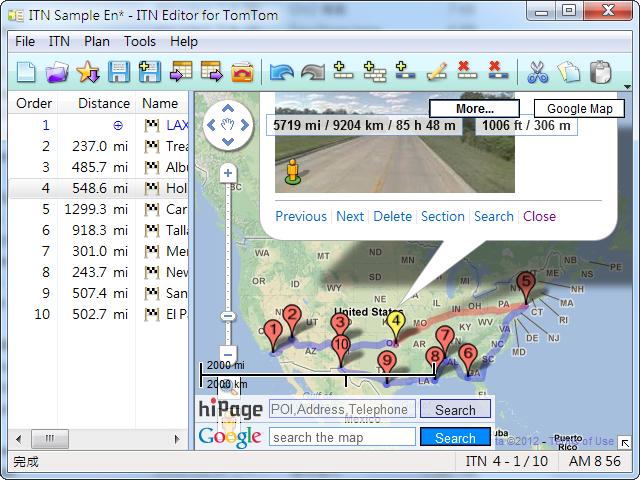 Features
What are you interested in:
Open and save various ITN files (itn, kml, gpx, csv, asc, poi and txt) for TomTom.
Open the Favorites of your TomTom (MapSettings.cfg).
Open Garmin POI files (gpi, not encrypted).
Batch convert supported file formats.
Direct editing contents of ITNs in the table (in-place editing).
Drag and drop ITNs within the table or onto another instance of editor.
Copy, paste, find, replace, ..., great helpful functions.
Query addresses of ITNs.
Plan the order of ITNs by manual or automatic.
Mark the states of ITNs as Destination/Waypoint and Visit/Visited.
Manage individual markers of ITNs on maps (Google, TomTom, Yahoo!, Nokia and OpenStreetMap).
Route Planner based on IQ Routes™ provided by TomTom.
No limit to the number of ITNs in a file.
Quickly update the ephemeris file for your TomTom (QuickGPSfix).
And more...
| | |
| --- | --- |
| Notes: | Some of functions in the editor are useful only and specifically designed for Taiwan. |

Q&A
Your questions will be answered and listed in here. Any suggestions about the editor are welcome.
Q
How do I automatically plan the order of my itineraries? (Tony)
A
Before you use the Auto Route (Alt+E) function, you have to arrange your ITNs by the following conditions:

Move the start point (ITN) to the first row of table. The start point is your beginning travel location, for example: My Home.
The start point is also the end point if the Round trip ITNs is selected.


Move the end point (ITN) to the last row of table if you want to specify the final location, for example: A Hotel.

Press the Auto Route (Alt+E) key, the Auto Route ITNs dialog will be shown:

Try to select one of the options in the Travel mode and distance parameters in the Directions based on groups.

You should Update before you use this function if you dragged any balloon onto a new position and still not Update these markers yet:

Any marker will be updated automatically when using this function.
Q
ITN editor will not let me run autoroute without coordinates. (Gareth)
A
Any coordinate of itineraries must have valid/nonempty values, and their positions should be near roads.
Q
When I'm working with Google Maps, how do I Insert an itinerary into a specified position of the table? (Tony)
A
1. Click the position on the table where you want to insert an itinerary by mouse middle button, for example:

2. Click the Insert text in the Info window by mouse left button:

3. The itinerary will be inserted into the specified position:

Q
After planning an iti, is there any way to use it in my TOMTOM. I don't know where to put the itn file for using it in my TOMTOM. (ozzii)
A
If your device is a newer model which managed by the MyTomTom software, currently the itinerary feature is unsupported.

If your device is an older model which managed by the TomTom HOME software, you can try the following steps:

Connect your device to a computer.
Save or Copy the file (MyJourney.itn) to the following position of your device:

t:\itn\MyJourney.itn

If the folder (t:\itn) does not exist, just create it first.
Disconnect your device from the computer.
Power on your device.
Tap the menu items Itinerary planning, ..., Load Itinerary to load the file.

For more information about the itinerary feature, please refer to your device manual.

History
v2.1.5.1 (11/18/2013)
Read and write Opel Navi files (*.poi).
Fixed kml and gpx files compatibility with Google Maps.
v2.1.4.9 (7/29/2013)
Open and save *.asc files.
Remove hiPage search bar.
Fixed several minor bugs.
v2.1.4.8 (3/6/2013)
Fixed Google Maps API Key.
Modified several GUI text.
v2.1.4.7 (1/1/2013)
Improve GUI behavior under Windows 7.
Fixed several minor bugs.
v2.1.4.6 (10/10/2012)
Show coordinates with compass directions.
Removed the Weather feature.
Fixed several minor bugs.
...
v1.0.0.1 (5/21/2009)
First version, provide basic functions.